2nd Platoon, C Company, 4th/47th, 2nd Brigade Rung Sat – April 9, 1967
Memorial by Bill Reynolds…
Ron Schworer was another fine young man caught up in the draft in May of 1966. He joined the rest of us at Fort Riley, Kansas, as the 9th Infantry Division was reactivated for Viet Nam duty. Ron was right there with us, experiencing Basic Training, Advanced Infantry Training, hot and cold miserable Kansas weather, the train trip to Oakland, California, the troop ship to Vung Tau, and stomping through the rice paddies, swamps and jungles of the Mekong Delta. He was right there with us, with Lieutenant Jack Benedick's 2nd Platoon.
I clearly remember Ron as a very quiet intellectual guy who was very interested in computing and electronics. Everyone who really knew Ron had no doubt that a tremendous future lay ahead for him.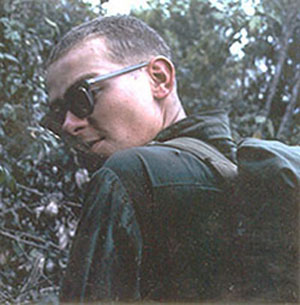 Recently, a fellow 2nd Platoon friend, Bill Varsafsky, and I exchanged memories via e-mail regarding the circumstances that led to Ron's loss. For some long forgotten reason, I did not go out on that particular patrol, but I do remember everone talking about Ron and feeling dejected and miserable about what happened that day.
While on a routine patrol searching out Viet Cong in the swamps of the Rung Sat, the 2nd Platoon soldiers were crossing a small river when several of our choppers mistook the men for the enemy. As the choppers momentarily opened fire, everyone scrambled for safety except Frank Modde who was helping Ron cross the river on a raft. Frank somehow managed to reach shore, but Ron did not and he was lost to friendly fire or by drowning. Everyone searched and searched, but Ron was lost and he was gone forever.
Jack Benedick recently informed me that he had personally dove into that muddy water time and time again, trying to find Ron. It's my understanding that follow up searches were conducted by other U.S. Army personnel and that every effort was expended to find him.
It's my understanding that one year later, the US Army changed his status from "Missing in Action" and declared him "Killed in Action".
Ronald Paul Schworer's body was never recovered… P.S. If other Charlie Company soldiers read this and can add to the story, it would be very much appreciated. Also, I must sadly report that Frank Modde lost his life in a motorcycle mishap near his Indiana home in the early 1970's.

Richard Ronald Schworer's Letter To Bill Reynolds – January 1, 2001…
Thank you very much for the memories that you have of my uncle Ronald. I am the son of his brother, Richard. My name is Richard Ronald Schworer, Ronald being my namesake. I have recently begun searching for information about his death. Not much was known in our family until I read your article on the Internet's Virtual Wall. I and my father much appreciate you doing that, more than words could say.
If you could put us in touch with others who may have memory of that event of 04/09/1967 it would mean a great deal to me.
Thank you Sir for your Service to our Country and your loyalty to a fallen comrade.
Best Wishes,
Rick Schworer
Letter from Bill Varsafsky to Ron's Nephew, Richard Ronald Schworer – January 3, 2001…
Hello Rick,
My name is Bill Varsafsky. I was very close to Ron as we became very good friends during our time at Fort Riley. Ron, affectionaly was desiginated as our platoons 'geek'. His intelligence was head and shoulders above the rest of us and yet, he fit in very well.
We talked often about his skills with computers. His dreams and ideas were based on the future of computers. He knew that they were the future and he knew that he was part of that future. We talked about him building a program/operations based company that would revolutionize the industry. Kinda sounds like MICRSOFT doesn't it? I was to be his northwest manager. I live in a small town outside of Seattle called Port Orchard.
Ron's loss was as I remember it, was the first for our unit. He was not a strong swimmer and we would ferry him and others who were not strong swimmers across rivers in the Mekong Delta on air mattresses. That particular day, Ron was on an air mattress about in the mid point of crossing a river. I was ferrying heavy weapons on another air mattress and was going the opposite direction. I had just passed him and the man who was pulling him across when we heard the sounds of helicopters. We looked down river and saw them coming up the river toward us. I remember thinking what a great sight that was to see the choppers. With out warning they opened fire on us. There was tremendous panic as you can imagine. The whole thing took place in a matter of seconds. Our lieutenant immediately got on the radio and ordered the firing stopped. When everything was over, there remained only an empty air mattress where Ron had been. Several of us started to dive the site immediately to find Ron. The river was running fast and was 20 to 25 feet deep and we never found Ron.
When you lose someone like that, you don't cry. You suffer anguish and anger and vow to suck it up for Ron. I loved Ron as a brother, soldier and as a close friend. He has always been in my thoughts and is one of the people I visit at the Wall in Washington D.C.
I don't think that Ron was shot, but rather slipped off the air mattress and drowned. The area we were working was what the military called a free fire zone and anybody not an American was fair game. The choppers thought that we were the enemy. Ron was a victim of poor communication, coincidence and fate. He has been missed, but never forgotten.
I am retiring today and do not have a home computer (I find this a bit of a paradox) and such will not be able to communicate with you for the near term. However, as soon as I'm back on line, I will advise you of my e-mail address so that we might communicate further.
Best Regards…
Written by Ron's close friend, Willie McTear…
Homage To A Fallen Comrade
Ronald Schworer, whom we all came to love and respect, this is our humble way to pay tribute to you.
On May 16, 1966, you and I traveled together from Las Vegas to Los Angeles to be sworn in as members of the United States Army. Once sworn in, our journey began – Induction Station at Fort Bliss, Texas, Basic and Advanced Infantry Training at Fort Riley, Kansas, and finally, patrolling for the elusive Viet Cong in the Mekong Delta, South Vietnam.
The physical demands in Basic and A.I.T. brought out the best and the worst in us. What you lacked in physical attributes were more than compensated with such qualities as your untiring effort to excel, your mental toughness and your loyalty to your comrades as evidenced by your refusal to discharge from the Army upon your father's death. Those qualities, and more, were manifested in the Mekong Delta where you exemplified the true definition of a soldier – always the first in formation, always taking your malaria pill without being ordered, and after spending many days and nights on patrol you would be the only one to clean your weapon immediately upon return, you always had a spare pair of dry socks available, and your living area was always squared away.
You never ceased to amaze me, the unassuming manner of how you dealt with the most stressful environment known to man, how you diligently wrote your family and stayed in constant communication with the University Nevada Las Vegas for status assurances where you intended to attend upon E.T.S.
Your goals were cut short by the War Gods because they wanted you in heaven – in God's Army.
Ron, your name along with 58,174 names on "The Wall" are the true and brave patriots. You have paid the ultimate price. Today, your Unit – Charlie Company, 4th Battalion, 47th Infantry, 9th Infantry Division, pay homage and salute you.
Rest in peace, Warrior……you did good.
Willie McTear gave this speech at Charlie Company's Reunion on Saturday, July 21, 2001.
An e-mail letter to Bill Reynolds – March 25, 2003
Hello!
My name is Robin and my father, Captain Arnold Wayne Luke, was a Huey pilot in Viet Nam in 1968. He died near Camp Bear Cat on August 12, 1968, when I was two years old. Because of my strong feelings towards the brave men and women who unselfishly serve our country, I got a MIA/POW bracelet when I lived in Las Vegas back in 1989 and although I don't wear it every day, I do wear it often. For some unknown reason tonight, I started looking up the name on my bracelet and found you. I have always wondered about the person whose name I wear on my wrist, Ronald P. Schworer. All I knew was that he was from Nevada, was a SP4 in the Army and disappeared on 4/9/67 in South Viet Nam. I have always wondered about him, his family and if he ever made it home. How wonderful to come across you. Although it sounds as if Ronald passed away that day, I will continue to wear the bracelet. I always hoped that he would be found someday and that I could find his family and send them the bracelet. From reading about Ronald on your Web Site, it sounds like he was a great man and well loved and respected by those who knew him. It really says a lot that after all these years you keep his memory alive.
I wish you well and thank you for all you have done for your country.
Robin
Mecca2066@aol.com <- Until May, 2003
luv2btacky@elvis.com
P.S. I went to a Viet Nam Helicopter Pilots Association Reunion several years ago and met a few guys my father served with in the 191st AHC; maybe someone who knew my dad will see this.