Jeanne Marlow remembering her friend, Kenny Frakes. . .

It made you feel good just to be around Kenny Frakes. In fact, that was probably Kenny's calling in life. He wasn't out to set the world on fire. He just wanted to have a comfortable life, doing the things he loved, surrounded by the people he loved. Kenny loved a lot. I miss him.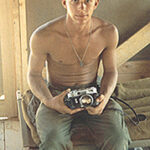 Jeanne Marlow – July 23, 2008

Do not stand at my grave and weep;
I am not there. I do not sleep.
I am a thousand winds that blow.
I am the diamond glints on snow.
I am the sunlight on ripened grain.
I am the gentle autumn rain.
When you awaken in the morning's hush
I am the swift uplifting rush
Of quiet birds in circled flight.
I am the soft star shine at night.
Do not stand at my grave and cry;
I am not there. I did not die.