2nd Platoon, C Company, 4th/47th, 2nd Brigade
Sergeant Elmer F. Kenney
3rd Platoon, C Company, 4th/47th, 2nd Brigade Long An Province – July 11, 1967
Memorial to Phil by his sister, Diane Hawley
Phil Ferro was a fellow platoon member and a fellow graduate of my high school class – Cleveland High – Reseda, California – Summer 1964
It's been more than 30 years since that awful day when we lost these young men, yet I can remember it almost like it was yesterday. Throughout all of these years I have never forgotten the friends that were lost and much of the circumstances that wiped out so many young lives.
The day started out like so many other days – another "search & destroy" patrol. We were dropped off by the Navy's landing craft very early that morning and for several hours, it seemed like we were on another long, boring, hot and sweaty, hike from one dry rice paddy to the next. Each rice paddy was bordered by a tree line. Lieutenant Jack Benedick ordered each squad to take turns going recon over the rice paddy to the next tree line. The idea being that if we encountered VC in the trees then the whole platoon would avoid ambush. My squad had just completed a recon and then it was SSGT George Smith's squad that ventured into the next paddy towards another treeline. To that point, it seemed like just another tedious patrol.
When Sergeant Smith, Harold King, Phil Ferro, Butch Eakins, and the others reached halfway into the clearing, Lieutenant Benedick ordered the rest of us to advance from the trees into the paddy. Sergeant Smith's squad was almost across the paddy and the rest of us were well out there when all hell broke loose. The whole platoon was immediately pinned down. The Viet Cong had been laying in ambush for us and they waited to open fire until the recon squad got really close. At first, we didn't know what happened to our recon guys; we were all trying to lay low and crawl out to them.
Everyone was firing like crazy and bullets were flying all over the place. You could barely lift your head without a bullet zingin' by. I was carrying a radio that day and I stayed in contact with Lieutenant Benedick and the other radio men – there were no messages coming from the recon squad. Lieutenant Benedick really wanted us to reach the guys out there, but it was impossible. He called in "willy peter" artillery for a smoke screen so that we could reach them, but it was too windy. I can remember how afraid I was when the shells started coming in and I just knew we were all going to be blown to smithereens. Luckily, the shelling was on exactly target as requested by Lt. Jack.
We laid out there for hours trying to crawl out there to reach the guys all the rest of that day, but when darkness came, Lieutenant Benedick called for us to pull back to the last treeline. None of us slept that night, but we could see some nightime map lights moving about out there in the paddy. We were tempted to fire but we couldn't because our guys were out there.
The next morning at first light, two of the recon guys came walking up to us. Frank Schwan, our machine gunner, had been hit in the chest and he was helped by Henry Hubbard – who miraculously escaped the ordeal without a scratch. They told us that they were lying all night behind a rice paddy dike fairly close to Phil, Butch, Harold, and Sergeant Smith. They were holding grenades with the pins pulled in case the Viet Cong found them. The map lights that we had seen during the night were used by the enemy to collect the weapons and ammo from our fallen comrades. Lieutenant Benedick called for a chopper to take Frank out and then we went across the paddy to find our men lying there.
I'm certain Phil never knew what hit him and it was obvious that the others had returned fire for as long as they could; empty shells were laying all around them. When the chopper came in for our dead, myself and a few others were asked to help put them on the chopper. That's when I broke down and I couldn't help – it was just too painful to see my friends like that.
As for the Viet Cong, they had cleared out during the night. Except for one with an AK47 that apparently didn't have time – Lt. Jack immediately shot him dead .
After the mission ended, I learned that another buddy, Elmer Kenney, was also killed during that same action. I don't recall the circumstances, but I do recall being shaken up upon hearing about Kenney. He was a really decent guy from Canoga Park and I remember that he was married and had a baby boy. I cannot even imagine the pain that was felt by all of the family members to these men.
All of us in the 2nd Platoon were upset and beginning to believe that none of us would get out of Nam alive. We had endured a very large battle and many casualties just several weeks earlier.
I only hope that this letter serves to honor these men – they should not have died over there. I, and the other soldiers that served with them, will forever remember them in our hearts.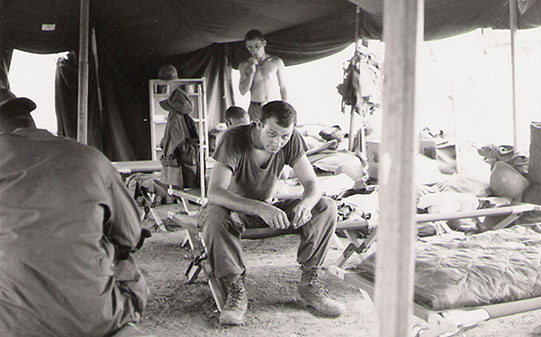 Dear Bill,
I grew up in Northridge with Phil Ferro. He was the NICEST person. When I was about eleven and he was twelve we used to play long games of dominoes. He was a really good jump roper, and he was so good at sports that he didn't have to care if anyone thought it was a "girls' game". He was a fast runner and very brave. He once climbed to the top of a power line tower. I think we had a crush on each other for a while there, but in those days you didn't mention it and you certainly didn't do anything about it. I used to hang around with his sister Diane and spent lots of time at their house (across the street and down a few houses from mine).
We lost touch by the end of high school, and later I learned that he had been killed in the war. When my husband and I were in D.C. a few years ago, I looked up Phil's name on The Wall and traced it with my finger, remembering a good and decent man who hadn't had a chance to live a long time.
Thank you for putting his name on the Web, and thank you so much for telling us what happened.
Catherine Daniels – May 26, 2003



Phil Ferro's 1957 Chevy recently restored by his best friend from highschool, Jeff Cole. Congratulations on a job well done Jeff; what a wondeful tribute to your ole buddy!