3rd Platoon, C Company, 4th Battalion, 47th Infantry Kien Hoa Province – May 6, 1968
Memorial by Jack R. Benedick – Major, Army of the United States (Retired) John Hoskins and I first became acquainted in the fall of 1966, as the 9th Infantry Division was reactivated at Fort Riley, Kansas for service in Viet Nam. As fresh 2nd Lieutenants, John and I were assigned to train and lead new recruits in Charlie Company, 4th Battalion, 47th Infantry. I had the 2nd Platoon and he had the 3rd Platoon.
It didn't take very long at all for John and I to become the best of friends as we shared similar values about patriotism, and our jobs. We firmly believed in the 9th Division's mission to stamp out communism in Viet Nam's Mekong Delta. John was especially dedicated to training his platoon for the mission ahead and the rigors of combat.
During our first tour of duty in 1967, we fought numerous battles and skirmishes with Viet Cong forces. During these battles we suffered the normal types of casualties (WIA and KIA), but the training and skill of our soldiers kept casualties to a minimum. Both of us were wounded during our first tour of duty. This was not uncommon in Viet Nam as it was a small unit war (platoon and company sized fights). While we both were decorated for valor on several occasions, so were members of our respective platoons and it remains our honor and privilege to have served and fought with these men. At the risk of going overboard, we considered everyone in our platoons "HEROES".
As our first tour of duty in Viet Nam was nearing an end, Hoskins decided to extend for six more months. In doing this you were given a free 30-day leave. Lynn Hunt, a fellow platoon leader, was going home to be married and he asked John and me to be in the wedding. So off to Miami we went. I went home first to see my wife and then traveled to Miami. While there Hoskins and I saw most of the sights through very blurry eyes. We visited all of the well-known tourist haunts and came very close to missing the wedding. It was a formal military wedding with sabers and everything. Handling a sharp sword in our condition was not only dangerous to us, but also those in close proximity. After the wedding, I almost decided to return to Viet Nam with John and continue our efforts to fight the communist hordes. After careful consideration, I returned to Ft. Riley and my family.
Hoskins returned to the rice paddies in late February 1968 to serve again with the 9th Infantry Division. He was assigned to an 'Air Boat Platoon' and in March '68 he was assigned as Company Commander of E/3-60 Infantry. By then the E Companies had been reorganized as rifle companies. Hoskins and I stayed in contact by mail every two weeks or so. We had made plans, upon his return, to join Special Forces and continue to save the world. My last letter from him was 27 March. After a while I began to worry about my friend and in May received a telegram about his death. John's death affected me deeply and still does today, but it also did not come as a surprise. We were raised on John Wayne movies and looked at war as a game (albeit a very dangerous game). I was in his funeral at West Point and as befitting him it rained when we put him in the ground. John's death was a part of my reasoning to stay in the Army and return to Viet Nam.
As a result of our friendship I became good friends with his parents and also his brother, who served in Viet Nam as well. When our second son was born, I asked John's parents if I could name my son after John. They were pleased that I asked their permission and my second son was named Michael John Hoskins Benedick. While his parents treated Michael as an extension of John, his death took its toll on Mr. and Mrs. Hoskins . . . Mr. Hoskins died within a few years of John's death and I think that he never really got over losing John. John's parents were able to see Michael several times prior to their deaths and this was a pleasure for them.
I have gone to West Point several times to visit John's grave. It is very emotional for me and I imagine that it always will be. He was and is still my friend. Who knows what would have happened if we had survived and been unleashed on the world? To this day I often think of my friend, the war and of the men who served and fought with me.
Memorial by Mary Poole – a friend. . .
I knew Hos, as I called him, when he was a cadet at West Point. He was my brother, Bill Poole's, best friend. I was in college in D. C. at the time, and of course, fell in love with this romantic poet warrior. We would talk for hours. He was a seeker, and a philosopher, too. I often wonder how he could have been so sensitive, and a soldier. He sent me wonderful, descriptive letters from Viet Nam, and the scenes and emotions came alive. I found out he was killed from my brother. I took a bus to West Point for his funeral. It changed my life. Although he died 32 years ago, I think of him often, and wish he could have experienced the things in life like children, heart break, even growing older. . . I have told my children about him, and my daughter, Meghan, who is in school near there, went to visit his grave last year, and left flowers and a note on it. He will forever live in my memory and heart, and now in the memory of my children.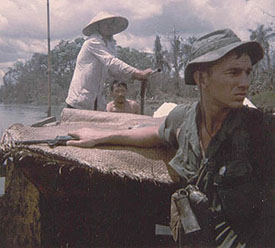 This photo of Lt. John Hoskins was taken on Hos' last day and was contributed by Robert Lisko, who served under Hoskins' command. Robert witnessed the booby trap explosion that took his commander's life. Their unit was on a routine search and destroy mission down in the Mekong Delta when the tragic event occurred. Though Hoskins was mortally wounded, he continued cursing the situation all the way back to Dong Tam aboard the med-evac chopper. Robert remembers Hoskins as a true warrior and a very brave leader.