1st Platoon, Alpha Company, 4th/47th Battalion, 2nd Brigade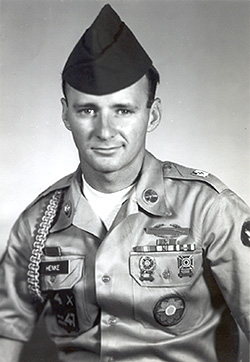 Introduction – Greetings all – Jim Henke here, present and accounted for. I was drafted out of Long Island, New York and sent to Fort Gordon for Induction on January 1, 1967. That's where I realized I was joining the infantry. What a way to celebrate the new year! Soon, I was sent to Fort Jackson, South Carolina for Basic Training and Advanced Infantry Training. After training and a two week furlough back home, I and a group of New Yorkers traveled to Oakland, California for a really nice long flight to South Vietnam. Once there, I was supposed to join the 1st Air Cavalry, but instead was sent to the Mekong Delta and joined Alpha Company, 4th/47th, which was part of the Mobile Riverine Force – the barracks ship was nice and clean and I liked being there. However, just one short week after joining Alpha Company and on my very first mission, our battalion encountered a major enemy force – June 19, 1967 proved to be an unforgettable day.
It was mid-morning and very hot and humid – humping those rice paddies was exhausting. Suddenly, all hell broke loose as the concealed and fortified V.C. opened up on us. The guys on point up front did not have a chance and they fell fast. We all hit the ground and fired back, but simply lifting your head to aim was a deadly prospect – I remember firing my M-16 over the rice paddy dike that I had luckily scrambled behind. The V.C. knew exactly who to go after first – Platoon Leaders and RTO's. I saw my lieutenant, Phillip Zum Mallen, go down while trying to aid his wounded troopers – this brave man certainly died a hero. We looked for direction, but our leaders were all dead or wounded and we couldn't hardly move as the V.C. had an open field of fire on us. I've never, before or since, been that terrified. I was amazed at the courage of our RTO's and medics; our medics scrambled all around lending aid to the numerous wounded soldiers. Those RTO's who survived the immediate barrage were so brave as they called in and pin pointed artillery on enemy positions. I saw Chaplain Johnson and several other Navy guys dragging the wounded to safety while under heavy fire – it seems incredible that Chaplain Johnson survived that day. We were out there all day and through the night firing over our heads to let the enemy know we were still kicking. Getting help to us was practically impossible; Huey's were shot down left and right and I heard later that Charlie Company headed to our area and cought pure hell. Finally, the pounding by helicopters, bombers and artillery wore the enemy down and then other units got to us. At the time, we didn't know that Alpha Company was three quarters gone, but reality soon set in. The mop up the next morning was the hardest thing I ever did – you could tell that some guys died trying to get to cover and they came so close and others went the wrong way. The day was so hot and the attack was incredibly noisy that I'm certain many were disoriented; it was an unbelievable scene. Somehow, By the Grace of God, I managed to survive that battle without even a scratch. I'll never forget the bravery of our guys and the Navy Riverine sailors.
My Tour of Duty clearly began ominously and there were numerous fire fights in the following months and as I reflect back, it seems really unbelievable how I made it through – I am so thankful. Certainly, I am proud to have served my country and I know that our mission was just – someday, I hope to visit "The Wall" to say a final goodbye to my fellow troopers. Until then, I will never forget that dreadful day; I have pledged to do my part for the memory of our soldiers who gave the ultimate sacrifice for freedom in a faraway land. Please review the Sound Beach Dedication Ceremony on Page 3, which honors Spec. 4 Bruce Kerndl and Spec. 4 Charles Prchal.
Sincerely, Jim Henke – June 4, 2004.