1st Platoon, A Company, 4th Battalion, 47th Infantry Bien Hoa Province – September 15, 1967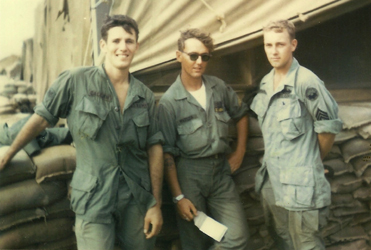 E-mail From Morrissa Clanahan 02.17.09 Hello Bill, I was so glad to hear from you about Ronnie, that's what we called him and I guess he will always be Ronnie to me. When I found the website where I got your name and I saw all the different companies listed, Charlie Company didn't really sound right but it stuck in my head and I got some of my letters out from Ronnie and..Ah-Ha, Alpha Company. I think Charlie stuck in my head because he referred to "Charlie" a lot in his letters and I'm thinking that it might have meant the enemy.
Gosh a lot has happened in my life since Ronnie was killed but I have never forgotten him. We knew each all our lives. He was 3 years older than me. I have ever letter written to me from him while he was in Vietnam. I remember 3 days after his death, the Postmaster of our little post office came to my home with 3 letters that had arrived the day we got word he had been killed. They were written just before he was sent out on the mission, I guess that's what you call it, that he was killed in. We grew up together and I always knew that he would be my first love. I was 13 and he was 16 when we started seeing each other (against my parents knowledge I might add). But anyway we never grew apart and he was to come home in December of 67 but he was killed in September. I turned 18 in August and he would have been 21 in November.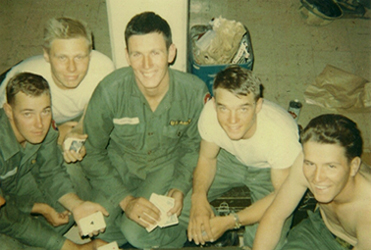 We were going to get married as soon as he got home. I know there are so many stories like mine. I married 5 years after his death, divorced, was single for 9 years and then married another hometown boy who was a Army Vet and a Vietnam Veteran, he was a Medic and served 18 months in Vietnam. He was in the Army for 14 years before having to get out because of his lung condition. He died in 2004 from his service connected disability and other health and issues. He saw a lot, he was a Silver Star recipient and Bronze Star with 2 Oak Leaves, I think that is what he called them. He said the medal he was the proudest of was his Combat Medic Badge. I have read his citations and I don't know how he survived or how any of you all made it thru that horrible war. I am so proud of both of my Vietnam boys. I truly have both on mind all the time and hurt for them and all those who have to fight in these terrible wars. Sorry I got off track there. I am still close to the Showmaker family and we visit Ron's grave often and still see that he has flowers on his grave as I do my husband's.
I thank you for the information on how I might get in touch with some of the guys in Alpha company. I will be on a mission now to get some things together to put on the memorial page. I may have to contact you again on how to do that. Can I email the info to you or how do I do that?
Before I close, I wanted to add that I live in the same town that Ronnie and I grew up in and live about one mile from The National Cemetery where he and my husband are buried. This cemetery is one of the 13 original cemeteries that President Lincoln established during the Civil War. Back in 1991 or about then, the Federal Government wanted to close this cemetery due to the fact that it was going to be full by 2010 and they didn't want to go to the trouble to purchase additional property to expand it. Too much red tape they said. So a small group of people, me included, got together, raised the money to purchase the ground to expand, gave it to the government and now almost 18 years later they have started construction on this ground for many more gravesites, possibly 500 or more. Also the old Caretakers Lodge was in such poor disrepair that they wanted to tear it down so we got it put on the National Historical Register and got grants to restore it and are now in the process of making a museum out of it. Ronnie was buried there in 1967 and my husband Jimmie was buried there in 2004, my heart is so into this cemetery. We have a DVD called "Quiet Acres" The Story of The Mound City National Cemetery. Many of our members were interviewed and in my Interview I tell how I became connected with this cemetery in 1967 and how it has meant so much to me. If you would be interested in seeing it I could mail you one if you would send me your address. We have a website but the video has not been put on it yet. We have to do everything with grant money and it's going very slow.
www.moundcitynationalcemetery.org
Well I have become a chatter box and I am going to close. Thank you so much. It meant so much to get your email and the info.
Keep in touch.
Morrissa Clanahan
E-mail from Morrissa 02.22.09
Bill, the pictures and the chaplins letter were awesome. Ronnie's sister is suppose to bring me some albums with pictures of Ronnie. After I married the first time, I gave everything to his family except my letters and some high school photos, I sent many photo's to Ron but he didn't send many home. I remember at his funeral we had one photo that we enlarged that he had sent, I loved that photo because it was the only thing current I had at the time.
I remember the day we got word that he had been killed. My folks didn't have a phone, (long story about that, I ran up phone bills to Ron and my Dad had it taken out) but my grandparents had a phone and they had gotten word from Ron's folks to go to my house and tell me before word got to me from someone else. The Army had come to Mound City but first had gone to where his mother worked to tell her the news. There were 2 of them. My grandmother came upon the porch where I was sitting, I remember it so well, I had my hair wrapped in a towel because I had just washed it, she saw me and said "Oh your home" I said "Yes, what are you doing here?" Then she said "Oh nothing, just out for a drive" and with that she turned away and my grandfather who had been really sick was sitting on the passenger side of the car with the window down, hot in August, no AC, and he said to her "Birdie, you have to tell her". Well I knew then somethng bad had happened. I said, "What's wrong, is it Ronnie?" and she said "Yes, we think he has been killed," His parents just lived down a block from me and I remember flying off that porch and running as fast as I could and when I got to their house, Ronnie's parents were there and I knew from the look on their faces that it was true.
His remains were returned very quickly, he was killed on the 15th and we buried him on the 22nd. We had initially heard that it might take longer. The local undertaker was close to both our families, his daughter and I were good friends. Ronnie's body came by train and we still had a train station back then, it was really late. I, with Ronnie's family, 3 brothers, 2 sisters, his parents and sisterinlaw, we followed in cars behind the funeral hearse to the train station. I will never forget, this sounds so eerie now, but we were all standing on the platform and the train pulled in and in minutes started pulling away and I kept think where is he, where is Ronnie and when the train was gone there he was in a large gray box, with a young soldier next to him. I can't control my emotions each time I tell this story. We followed the funeral hearse back to the funeral home. We never left him that night. I wanted to see him, but they told us they could not even put his uniform on him. I was always under the impression that he stepped on a land mine. His oldest brother begged me not to view him, he said none of the family was going to, only Ronnie's Daddy and his uncle because we wanted to make sure it was him. He had no wounds on his face, just a small one on the forehead, so I didn't see him. For a small town, now only 700, at that time maybe 1500-2000, it was the largest funeral I had ever been to or seen. The schools let out and from the funeral home the school kids marched in front of the hearse to the church. People had to stand outside, our church was small, the same church Ron and I went too, when I could get him to go, but he believed in God and would go with me. The funeral director had to use the casket room for Ronnie's funeral because the normal viewing room was too small. You couldn't hardly walk because there were so many flowers. The night before the funeral, his brothers and sisters and I stayed all night at the funeral home. I just couldn't bear to have him there without us even though the young soldier who came with him never left his side. It was so hot that day that several of the students fainted.
Ronnies parents paid my tuition to go to a tech school in St.Louis, his sister and I went. They wanted to do something for me. I thought that was so nice of them. We didn't go until the summer of 1968. I remember we would watch TV and then the POW's were being released and we both were thinking the same thing, maybe one will be Ronnie, we didn't see him, maybe they made a mistake. I guess we were young and the whole POW thing was so emotional, it was just a dream. I finally let go of that dream and knew we had buried the right soldier. It was hard to watch those things back then but for some reason I would make myself watch them. Before Ronnie got drafted he left Mound City and went to work in Paragould Arkansas, in one of his letters he wrote that he was watching President Johnson on TV and well, I can't repeat what he said. He didn't like President Johnson and he didn't like Democrats. He had already gotten one draft notice and was hoping he wouldn't pass the physical because of a heart murmer he had. But he did. And the rest is history.
Well here I am chattering again. I hope you don't mind. I kept thinking I might recognize Ronnie in some of those photos on your Web Site. I'm sure he could have been on that ship. He went over in January of 1967. Anything I write or say, you can use on the memorial page for Ronnie, It will take me sometime to get what photos I have together but I will get them to you. Thanks for listening.
Morrissa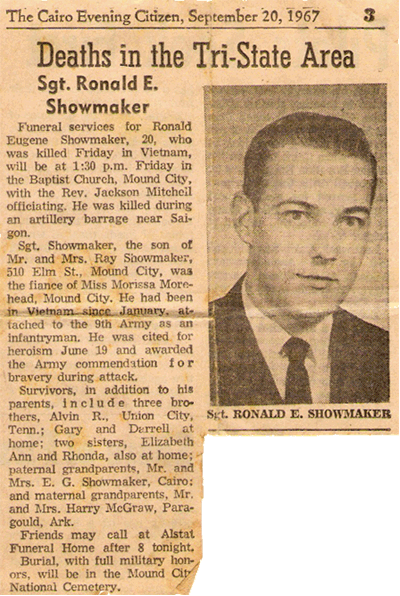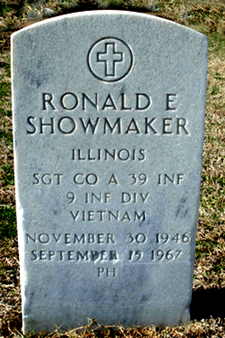 Ronnie survived a huge battle, known as
"The June 19th Battle Near Ap Bac Village"
and he was decorated for bravery while
serving with Alpha Company, 4th/47th.
Alpha Company lost 32 soldiers on June 19, 1967, and many more were wounded. Alpha Company was considered wiped out due to
to their massive numbers of casualties.
In fact, it's pretty much a miracle that
Ronnie even survived that Battle.
August 1967 – he was promoted to Sergeant E-5 and was transferred to Alpha Company, 2nd/39th.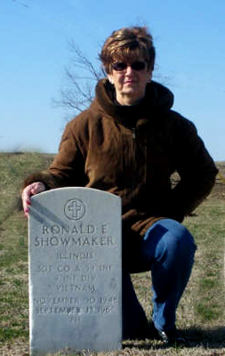 Morrissa Clanahan – March 1, 2009 Mound City National Cemetery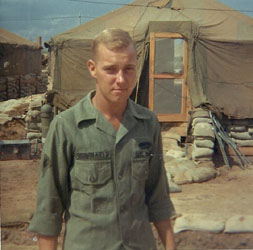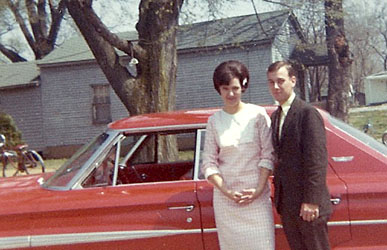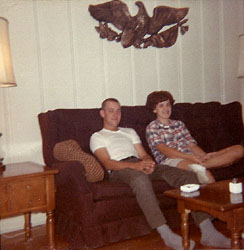 Here's Ronnie & Morrissa in July 1966. Ronnie came home from Fort Riley, Kansas on leave following completion of Basic Training.