2nd Platoon, C Company, 4th/47th Battalion, 2nd Brigade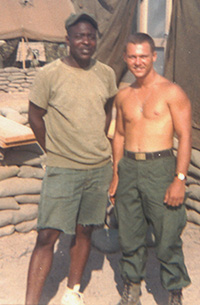 Introduction Steve Moede was drafted out of the San Fernando Valley (a Los Angeles, California suburb) on May 17, 1966 along with numerous other 19 year olds as the 9th Infantry Division was reactivated at Fort Riley, Kansas. Steve, a rough and tough young man, excelled at soldiering despite his independent and somewhat rebellious nature. He was extraordinarily proud to serve his country and he had no reservations whatsoever about doing his duty as our unit trained and prepared for the grueling task of combat that lie ahead. Credit goes to Steve for penning "The Letter" that requested our Commanders to harden our training and to simulate the guerilla warfare which we were destined to perform in the hot and humid rice paddies, jungles, swamps, and muddy waters of the Mekong Delta. After six months of training and living together at Fort Riley, Charlie Company, indeed the entire 4th/47th Battalion achieved excellent results as we became a solid fighting unit – extremely well organized and led by outstanding leaders. The 4th/47th became a key element of the Mobile Riverine Force.
In combat, Steve truly proved to be an "Old Reliable" trooper and was promoted to Buck Sergeant and he led one of Lt. Jack Benedick's 2nd Platoon squads.  I am very proud to call Steve Moede my friend.               Bill Reynolds – July 13, 2001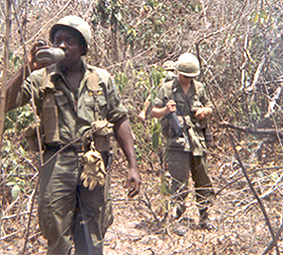 A Soldier Died Today
A soldier died today
Steve Moede was our friend
No soldiers there to comfort him
Nothing said until the end.
One more friend we knew
Has passed and gone away
He's headed for the shinning light
In God's hands he'll be today.

He'll see his Brothers
Who died well before their time
Surely they greeted him at the gates
Letting him know that he'll be fine.

April 3rd a very sad day
A friend we all knew well
He didn't want anyone to know
He told his girlfriend not to tell.
We were blessed to see you
Only a few short years ago
There were six of us that day
You let your emotions flow.
We'll miss you all so dear brother
But we know you're not alone
Another soldier died today
With his brothers he's now home.
May God bless you and keep you
Tell all our Brothers Hi
We'll have one heck of a Gathering
Until then goodnight no goodbye's.
Author: Tom Conroy
April 18, 2006