2nd Platoon and Headquarters, C Company, 4th/47th Battalion, 2nd Brigade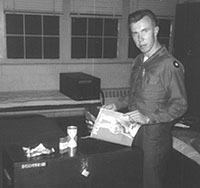 Introduction If you ever want to meet someone with an absolute outstanding, positive attitude, well……allow me to introduce you to Rollie Gangler. Rollie was one of those soldiers that we all needed to keep our spirits up, especially when training was difficult, or when the weather was terribly cold at Fort Riley. After we went to Viet Nam, Rollie lucked out and was transferred to Headquarters. But he never forgot his 2nd Platoon buddies as he visited us often and he was right there cheering us up. I haven't seen or heard from Rollie in over 32 years until recently – and you know something, he hasn't changed one bit. He's just as high spirited as always. Judging by the photos below, which he personally orchestrated, one would guess that he was slightly demented. Well, that was common knowledge with the 2nd Platoon troopers – haha!
Bill Reynolds – November 3, 2000
"Remembering Rollie" – Bill Reynolds' eulogy at
Rollie's Funeral Service, April 16, 2007:
My Friend Rollie
Hello everybody. My name is Bill Reynolds and I'm one of Rollie's many old Army buddies and I'm the guy who
operates a Web Site dedicated to the memory of our Unit and it's soldiers. especially to our dear friends we've lost in
Vietnam and since.
There are numerous Memorabilia Web Pages on our Site, but when you look at Rollie's Web Page, you immediately realize what a fun loving, crazy kind of guy Rollie was. There he is, along with a few of our pals, all decked out in Army Boots, Helmets, Ammo Belts all in their underwear – it's hilarious. Back in the day, everybody liked being around Rollie he had a special way of minimizing the stress of Army life. I first knew Rollie, and brother Wayne back in the summer of 1966 during Basic Training at Fort Riley and we quickly became friends. as he did with everyone. When we shipped out to Vietnam, Rollie was transferred to headquarters, but Rollie always found time to visit his ole pals we
were in harms way and Rollie always wanted to check in to see how we were doing and to boost our spirits.
Shortly after our Army days ended, Rollie and Wayne contacted me and they came out to California for a visit. Man, we had a great time my parents, especially my Dad, really liked having these guys stay with us. Well, my Dad passed away not long afterwards, but he always mentioned the Gangler boys and that fun filled visit. At that time, I took the guys to Disneyland and on our way home late at night, I ran a red light and was instantly pulled over by a cop when I got back in my car with the stinkin' ticket. Rollie and Wayne said emphatically, What Tha – didn't ya slip him a twenty!?
I said, Dudes, this isn't Chicago!
The next time, I saw Rollie was in Washington D.C. at an Army Reunion in Year 2000. He hadn't changed a bit and we had a great time. Then we met again at another Army Reunion in Vegas in 2001 Rollie had everyone rolling and was always stirring up somethin' with the guys. One evening, several of us were sitting around in bar can you imagine that? So Rollie says, Hey Bill are you a Democrat or a Republican, I told him, Republican. He says, hey French Republican or Democrat? French says, Democrat we say, Whot Tha!? Then Rollie says, hey Varsafsky Republican or
Democrat? Varsafsky says.. I'm Jewish! We say, Whot Tha!? Man, we laughed over that one.
Everytime we've had a Reunion, Rollie could be counted on to rally the troops. He would make phone calls all over the country twisting arms getting guys to attend. As Bob Ehlert told me the other day, Rollie was the glue that kept us
together. I've spoken to a number of our guys and everyone has stated what a huge and sad loss this is for all of us.
Rollie once said to me, hey Bill do you go to Church? I responded rather meekly, well. not really. So he says, Well! I
go to The Church Of What's Happenin' Now.
And I really think that's how Rollie lived his life. which I guess explains why we all loved him dearly.
A Veteran Died Today

Dear Lord you got a good one
A man with a heart of gold
His laughter so contageous
His statements always bold

A young man in his 60's
A Veteran and a friend
You knew he was coming home
When his short life had to end

He was so very special
he always made us proud
Maybe short in stature
But he stood above the crowd

He'd always say "How you doin"
Pat us on the back
Look at you then grin
then make another wise crack

We Veterans are going to miss you
Not another could take your place
Your memory will go on without you
In our hearts there's such a space

From one Vet to another
I salute you one more time
It was a pleasure being a Brother
And a Special friend of mine

Written by Tom Conroy