1st Platoon, C Company, 4th/47th Battalion, 2nd Brigade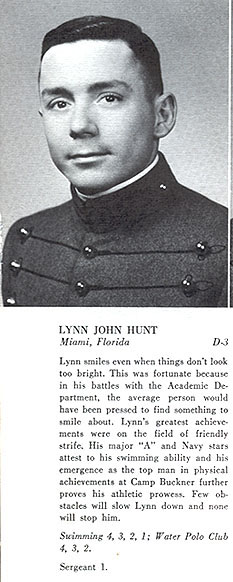 Lt. Hunt's Introduction
Written by Jack R. Benedick � Major, US Army (Retired)
Lieutenant Lynn Hunt trained with A Company while we were at Ft. Riley. A graduate of West Point Class of 1966 now made famous by the book "The Long Gray Line". Lieutenant Hunt was transferred to Charlie Company shortly after we arrived in Viet Nam. Now as a member of the best rifle company in the 9th Infantry Division, Lieutenant Hunt fit into the already smooth operating unit with out a hitch. He took over the 1st Platoon and proved to be a most capable combat leader.
Lynn Hunt came to West Point through the athletic system. He was a three time All American swimmer as a high school athlete. The Army Athletic Association recruited him as a swimmer and the rest is history. His prowess as a swimmer probably made him the most prepared Platoon Leader to deal with the waters of the Rung Sat and the numerous waterways of the Mekong Delta.
As with all of Charlie Companies Lieutenants, Lynn was wounded in battle, but returned to his unit after a short stay in the 9th Division Hospital and remained as a platoon leader until appointed as the Aide de Camp for the 9th Infantry Division Commanding General. In this position he could provide first hand details of the battle conditions in the Mekong Delta and Rung Sat. Something that was hard to see from a helicopter high in the sky.
Lieutenant Hunt stayed on active duty, serving a second tour of duty in Viet Nam with the 11th Armored Cavalry Regiment as a Troop Commander. He retired from the Army as a Lieutenant Colonel and lives with his wife Mary in South Carolina.
He is my friend!