2nd Platoon, C Company, 4th/47th Battalion, 2nd Brigade
Page 1,2,3, Honoring Lt. Jack
Sadly, our Lt. Jack passed away unexpectedly on March 19, 2013. His loving family hosted a grand
"Celebration of Life" service on April 21, 2013 and this tribute video was shown. Lt. Jack remains a
true American hero and he shall never be forgotten.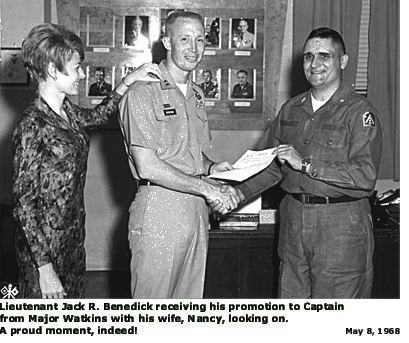 Introduction For over 33 years, I have never forgotten my Platoon Leader in Viet Nam – Lieutenant Jack R. Benedick. During this past year, I've been in contact with numerous other former Charlie Company soldiers and all have expressed immense respect and appreciation for Lt. Jack. As the 9th Infantry Division reactivated and trained for combat during 1966 at Fort Riley, Kansas, Lt. Jack was there effectively leading us and preparing us for a truly ugly business that lay ahead. And when we went into combat in the stinking, rotten swamps and jungles of the Rung Sat and in the rice paddies of the Mekong Delta, Lt. Jack was there expertly leading us in a dirty, nasty and sometimes horrific war. He always knew what to do when the going was tough. Yes, we lost a few good men in battle and yes, almost all of us were wounded in action. But, had it not been for Lt. Jack's decisiveness, intelligence and cool leadership under fire, so many more of us would never have seen our homeland or our loved ones again. Throughout my days since leaving Viet Nam, Lt. Jack has been my hero.
One would think that these words would be enough to impart gratitude and admiration for a man held in such high esteem – but not so. Lt. Jack continues to serve as a fine example of courage and inspiration for all who have known him. For it was during his 2nd tour of combat duty leading a 9th Infantry Division Rifle Company, C Company, 3rd Battalion, 60th Infantry, that he lost both of his legs – April 30, 1969. Such a major catastrophe would reduce most men to a meaningless and unrewarding future. Not so for Lt. Jack. With grit and determination, he pulled his life together and amazingly continued his military career for another nine years as a Captain, then promoted to Major on May 7, 1976, leading Infantry Units. He turned to snow skiing for rehabilitation purposes soon after returning from Viet Nam. This led to his desire to participate and promote a higher level of athletics for the disabled. With vision, courage and perseverance, Lt. Jack and his colleagues achieved Olympic Games status in snow skiing for these exceptional athletes. In fact, Lt. Jack competed internationally from 1978 to 1986 as a member of the U.S. Disabled Ski Team, winning a Silver Medal in the 1984 Games and two Bronze Medals in the 1986 World Championships.
As most know, beside every great man stands a very great woman. Therefore, I would be completely remiss in not mentioning Nancy Benedick. For more than 35 years Nancy has truly been a tower of strength and support for Lt. Jack – as even the most courageous have their moments of question. Nancy has always been there for her Jack and their two fine sons. Despite having been promoted and retiring as a Major in the United States Army, he will always be Lt. Jack to me. So, Lt. Jack – may God Bless You as you have blessed so many.
It should be noted that immediately following the horrific battle of June 19, 1967, it was reported throughout the United States that a 4th Battalion, 47th Infantry Rifle Company had been wiped out. Nancy saw this televised news report and for one long week she had absolutely no idea whether her Lt . Jack was dead or alive. This battle occurred during his first tour of duty. At least 50 gallant U.S. soldiers gave the ultimate sacrifice that terrible day and numerous others were wounded. Over 250 enemy soldiers also perished during that battle near Ap Bac in the Mekong Delta. Bill Reynolds – Thanksgiving Day, November 23, 2000