3rd Platoon, C Company, 4th/47th Battalion, 2nd Brigade
Page 1,2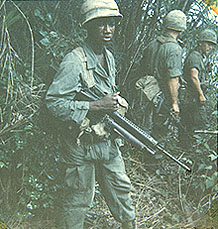 Introduction John H. Bradfield, a strong name indeed, for a strong and extremely resilient man! John is another of our "original" Old Reliables who experienced the severe hot and cold Fort Riley, Kansas weather and the incredible steamy and dangerous jungles, swamps and rice paddies of the Mekong Delta. If you were to meet John, you would immediately recognize his strong devotion to his family, to his country and to his "extended family" of our Charlie Company troopers who trained and fought together more than 33 years ago. We all received our "Greetings" from Uncle Sam at the same time and we entered the US Army on May 17, 1966 as the 9th Infantry Division was reactivated for Viet Nam duty. A number of us fortunately stayed together until our Tour Of Duty ended in January, 1968. This why we consider our fellow Charlie Company soldiers as our extended family. Our Unit endured 80% casualties – wounded and killed in action – forever, we are "Brothers In Arms".
Several memorable events stand out for John – most notable are his experiences during the huge and deadly battle of June 19, 1967. As with all of us that day, John lost several very close friends. This day, our experience and our fallen comrades will never be forgotten. Risking his life, John had just helped several wounded soldiers, including his buddy Forrest Ramos, onto a medivac chopper, when shortly after lift-off the chopper was hit by enemy fire. From my position I saw John assisting those men. The chopper pilot gave his all to keep his craft airborne, but it sputtered and jolted about and to our horror the chopper finally came crashing down killing all those aboard. Later that evening in the darkness of a hooch, where John and several 3rd Platoon troopers spent the night of June 19th, a sniper's bullet instantly ended the life of another close friend of John's – Tim Johnson from Lancaster, California. Two other troopers from the Lancaster/Palmdale area gave the ultimate sacrifice this same day – Monte Harper and Kenneth Frakes.
John is not only a strong and resilient man, he obviously possesses extremely good fortune. This good fortune presented itself once again on August 5, 1967. While on a routine patrol through one rice paddy after the next, John was walking point for the 3rd Platoon. Unknowingly, he stepped over a camouflaged Viet Cong booby trap on a rice paddy dike. As bad luck would have it, the soldier behind John, Ron Vidovic, tripped the wire resulting in a blast that blew off Ron's left foot and wounded John with shrapnel. Ron survived the blast, but obviously this left a major impact on his life, which John regrets to this day.
Last November, during the Mobile Riverine Association's Veterans Day Celebration, I had the great pleasure of meeting John again after more than 33 years of seeing him. I can tell you without doubt, John can never forget his former Charlie Company soldiers and he wishes nothing but the best for all of us as well as for the families of our brothers who gave the ultimate sacrifice. So John, you are a true American hero and a true patriot of the greatest country in the World – The United States of America! Bill Reynolds – February 13, 2001