1st & 2nd Platoons, C Company, 4th/47th Battalion, 2nd Brigade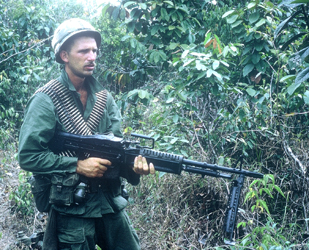 Introduction: Like many others, I was drafted on May 17th, 1966, out of North Hollywood in the San Fernando Valley near LA, California. The Army had a need to fill up the ranks of the 9th Infantry Division which they planned to deploy to South Vietnam in 1967. I was a full time student at Valley College and had a job delivering kegs of beer to thirsty people throughout Southern California. Although I started out with a full student deferral, I dropped a couple of classes to better balance out my work schedule with my school schedule. That's all it took, the draft notice came within a couple of weeks.

As one of the originals, I fell into the Army training routine in Ft Riley KS. After basic training I was able to bring a 1956 Chevy back to Ft. Riley from my home in North Hollywood. Many friends and I enjoyed exploring the Kansas countryside in that old car. It never failed us and was part of some of our better times.

Later, I proposed, by mail, to a girl I left behind, Deanna Scarborough. She accepted and I brought my bride to Kansas near the end of November 1966. We rented an apartment about 20 miles east of Junction City in Manhattan KS, just off the campus of Kansas State University, A couple of weeks before deployment, I sold the '56 Chevy to a local Kansas boy and bought an ancient '48 Chevy for $50. It never failed to get me through the deep snow from Manhattan to Fort Riley. On our last day at Fort Riley, I sold the '48 to a couple of NCO's who needed a ride into Junction City and didn't want to wait for the bus. I got $20.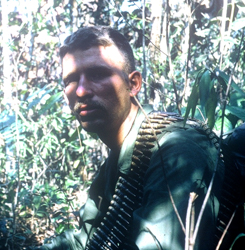 My infantry training ended up with being assigned a 90mm Recoilless Rifle along with a lot of practice with the famous LAW. However, in Vietnam the 90mm was not practical for Riverine use so I got to play with the M-60 machine gun but did get to use the LAW on occasion (one with a perfect shot into a VC Haystack
hiding two VC's from about 100 meters out, I was proud of that)… and of course the M-16 which I credit with saving my life on one occasion when it deflected a bullet when the VC shot the front sight off during one battle (see photos).

From the first night at Bearcat, on to the Mobile Riverine actions from the barracks ship Benewah and on to Dong Tam, I fell into the routine of the 3 day ambush patrols, broken up with the occasional helicopter assault, and other such force actions. I participated in the battle of May 15th but left Charlie Company four days later when reassigned to Saigon, 4th Transportation Command. In Saigon, I became a clerk stenographer of all things, but one of very few soldiers in Saigon with combat experience. I left the Army in 1970 as a Staff Sergeant after serving in Ft. Benning, GA and in Germany.