1st Platoon, C Company, 4th/47th Battalion, 2nd Brigade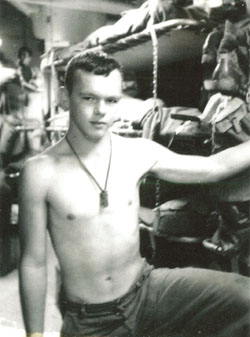 Here is a story of one very fortunate man, Ernie Hartman.  First, he
married his beautiful sweetheart, Jeannie and they went on their honey
moon only to discover that Uncle Sam had drafted him (Jan 5, 1967).
On his Honey Moon! Well, his luck did take another turn.  Ernie and the
two soldiers above were to report to Charlie Company on June 17, 1967,
two days before our big battle near Ap Bac Village where our
battalion lost 47 troopers and many more wounded.

However, there was a mix up with Ernie's paperwork and he arrived
on June 20th.  During training Ernie had the the unit's highest M-16 score so when he arrived in Charlie Company he was promptly handed an
M60 Machine Gun. That's the Army for you…

While on patrol on July 29, 1967 Ernie was hit by shrapnel and that was
the same day that Benny Bridges gave the ultimate sacrifice.

Ernie believes it was good fortune to have served with Charlie Company
for 5 1/2 months before transfer to 9th Division Headquarters where he
became a driver for General George O'Connor and Gernal William Fulton.