3rd Platoon, Bravo Company, 4th/47th Battalion, 2nd Brigade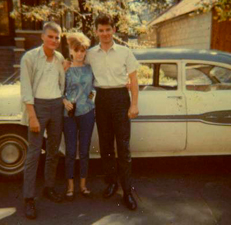 Things you may not know about Harry.
We grew up on Chicago's near north side. Harry had to quit high school to help Mom make ends meet, after our father left. Being seven years younger I never knew this. It was a lot of responsibility for a 16 year old. He helped pay for my school supplies and clothes. Help with the bills came while he was in Viet Nam and afterwards until Mom re-married. He was the male role model in my life. I remember him taking me bowling and occasionally letting me hang out with him and his friends. We went to see the Cubs and the Sox together.
When it was time for him to go off to defend freedom, with all of you, we were scared of course but how could you not also be very proud. I will never forget the day he got home; walking through the door still in uniform, no longer a boy. He never talked much about his experiences there.
Later, after getting his GED and some training in A/C he started a career in Des Plaines. Living in Florida was always a dream. We had lived there a while, back in the '50s. So Mom, our sister Sue, and Harry started a restaurant in Vero Beach. They did a great job of it. It was called: "The Kountry Kitchen with Love."
Harry built his first house there in Vero Beach. He talked Mom and our step-Dad into building next door so he could take care of them. Although he never married or had kids of his own he was naturally good with children. My kids always warmed up to him and his girlfriends' kids treated him like a Dad. I believe he was getting serious with a lady enough to consider marriage at last when he got sick. It seemed he was just getting his life together with all the ingredients he'd hoped for. I never told him what a hero he was to me.
I believe he knows it now.
Larry Love – April 2006