1st Platoon – Alpha Company, 4th/47th Battalion, 2nd Brigade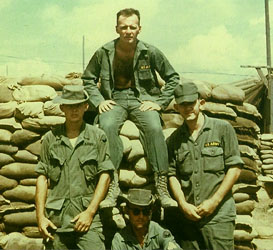 "Ode to my Hero" by Dave Nelson
I would like to introduce you to one of the kindest of men, a brave, courageous, "follow me" type of soldier ever to
wear O.D. Green! Tony Spradling of Tennessee is this man's name – M-60 Machine Gunner of Company A, 4th/47th, 9th infantry Division 1967-68.

I first met Tony, myself being a replacement, on June 20, 1967, after a very severe battle on the 19th with the
company suffering 90% casualties. Tony was one of only 12 soldiers left standing in A company. The talk of the
unit was all about this fierce battle and Tony's heroic action. He, of course, put down a field of fire with his gun
artillery, rounds landing in the area, some of them short, and him getting on the radio to redirect this firepower.
As darkness started to fall, he had a huge part of setting up a protective perimeter for our many wounded at the boats on the nearby river, expecting the Viet Cong to overrun this position; fortunately that did not happen.
As things happen, I was assigned to be his assistant gunner, being within arms reach of him for several months. He always insisted and was at the very spear point of any hostile fire, and believe me he could operate that gun. I'm certain, him blazing away with his machine gun, saved many of our men from death or injury. Time and again always in front, eye to eye with enemy forces. I'm sure he is not the only person like this, but myself and several others truly feel he was our own blend of Sgt. York and Audie Murphy, amazingly not once getting injured during his tour.

My desire is, like people interested and reading about our Civil War, in 100 years or so people will be interested in men like Tony Spradling. He is without doubt my GREATEST HERO!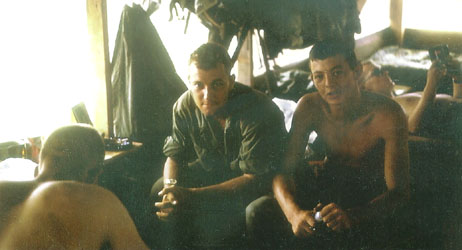 SPRADLING, TONY STANLEY – was born September 16, 1947, and went to his heavenly home January 5, 2015. Tony served in the US Army – Company A, 4th/47th, 9th Infantry Division 1967-68. Tony's hobbies included working on his home and farm, hunting, fishing, attending reunions of the 9th Infantry Division/Mobile Riverine Force. He was happiest when surrounded with his family, friends and military buddies. Tony was preceded in death by his parents: John Stanley and Beulah Mae Spradling, sister, Roseann Carmichael. Nephew, Michael Martin. He is survived by: wife: Phyllis, the love, joy and bright light of his life; son: Christopher Spradling; brother: Jimmy Spradling; brother-in-law: Sonny Carmichael; special niece, Mitzi (Scooter) Shriver; nephew, James Martin; great nephew, David (Courtney) Shriver; great-great niece, Abigail Rose Shriver and great niece, Stephanie Whatley; great-great nephews Jacob and Joseph Whatley. Stepson, Shane (Tami) Munsey; special granddaughter, Nikki (RJ) Delfino and special papoose, Lakota Rayne; grandsons, Johnnie Taylor, Gabriel and granddaughter Jaelyn; special friend Patricia White; many other relatives and friends whose life was enhanced by knowing and loving him. They will all miss the love and kindness that he so generously shared with everyone. The family will receive friends, Thursday, January 8, 2015 from 5:00 to 7:30 pm at Mynatt Funeral Home-Halls Chapel. Funeral services at 7:30 pm, with Reverend Phillip Murphy officiating. Family and friends will gather at the funeral home Tuesday, January 13, 2015 at 10:30 AM to proceed to East Tennessee Veterans Cemetery, John Sevier Highway for graveside services at 11:30 AM. Serving as pallbearers will be: Harold Rucker, David Pope, Alvin Barker, Johnny Mitchell, Jim Caughorn, and Randy Etherton. Mynatt Funeral Home Halls Chapel in charge of arrangements.