An intense battle in Dinh Tuong Province. . .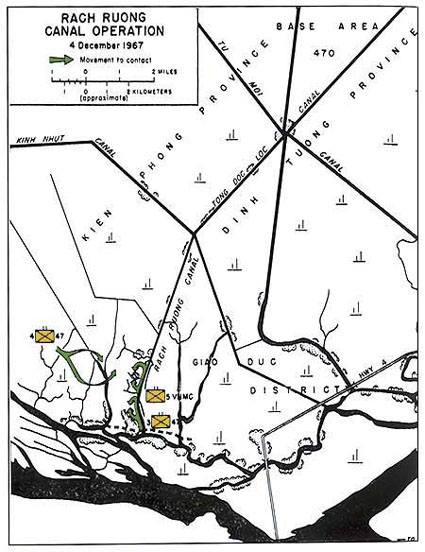 On December 4th, the Mobile Riverine Force moved to Sa Dec and 3rd and 4th Battalions, 47th Infantry, with the 5th Marine Battalion, began operations to find and destroy elements of the 267th Main Force and 502nd Local Force Battalions in Western Dinh Tuong and Eastern Kien Phong Provinces. The battle that ensued on December 4th-5th proved to be one of the most severe the Mobile Riverine Force had yet experienced.
Early on December 4th the force encountered major elements of the 502nd Local Force Battalion in a fortified base on the west bank of the Rach Ruong Canal. The enemy attacked the boats with rockets and automatic weapons and a decision was made to land the Marine Battalion to the north of the enemy position. Shortly afterward the 3rd Battalion, 47th Infantry, was landed south of the enemy position. Fighting was intense and Colonel David directed the 4th Battalion, 47th Infantry, which was standing by at a pickup zone, to land west of the enemy location. Mid afternoon of December 4th, the Vietnamese Marine Battalion made a frontal assualt that overran the enemy's major bunker complex. Supporting fire from armed helicopters and assualt craft contributed largely to the assualt's success. To the south, the 3rd Battalion, 47th Infantry, encountered stubborn resistance from
scattered enemy bunkers that prevented it from linking with the Vietnamese Marines. This action demonstrated the importance of a quick decision by a waterborne commander when the force was under fire. Major Nam decided to land immediately on what he judged to be the enemy flank. The commander of the supporting river division immediately gave the order to his boat captains, and the landings were made. Total enemy casualties for December 4th-5th were 266 Viet Cong killed, with the Vietnamese Marines accounting for the heaviest enemy losses. The Vietnamese Marines had 40 killed and 107 wounded. Nine American soldiers were killed and 89 wounded.
The assualt craft were able to land the Marines with light casualties on December 4th chiefly because of a flame thrower aboard one of the armored troop carriers. A vehicle with a flame thrower had been driven aboard, and the ATC placed in the convoy to fire on targets as required. The flame thrower had not only a physical but also a psychological effect on the enemy manning bunkers south of the Marine landing site. The first successful test of a flame thrower aboard an ATC had been made on October 4, 1967.