1st Platoon, A Company, 4th Battalion, 47th Infantry Gia Dinh Province – June 19, 1967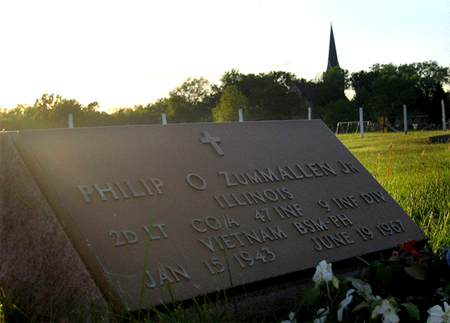 Letter to Bill Reynolds from David Ogle November 7, 2006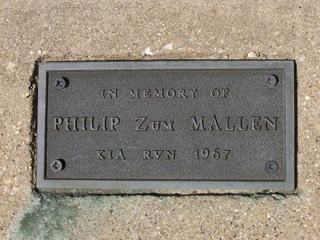 I am a Viet Nam vet and served with the 2/4 artillery 9th Div. 1970. Ben Luc and FSB Gettysburg, just to name a couple.
Looking at the KIA list I see my neighbor's name listed, Phillip ZumMalllen. He was several yeras older than me and I really didn't know him. I came from a very small rural neighorhood of about 60 homes. Of that we had 9 or 10 young men go to Viet Nam. Phillip was the only one killed. I still remember the day I was at church and the anouncement was made of Phillip's death. Two others I know of got Purple Hearts.
I guess it was about 15 years ago our little fire department was going to put up a flag pole. Me being a Viet Nam Vet got it dedicated in memory of Phillip ZumMallen. There is a bronze plaque there by the flag pole with his name & in memory of. We did several car washes and such to get the money for the plaque. He is not forgtten. Both of his parents were alive at the time and we did a dedication for the family. His father passed away about a year or so ago. His mother is still living. I saw his two brothers back in Sept. I send my best to all.
God Bless, David P.
Ogle Homewood Acres, IL